Wise management of mining resources and production techniques allow us to competitively produce copper and molybdenum concentrates for a world market.
The path for metal concentrates from earth to railcar or truck involves many separate processes, mechanical and chemical, overseen by trained personnel. Our attention throughout to maintaining equipment in good operating condition and our willingness to strategically invest in new, more efficient machinery are key. More importantly, the safety of our employees and protecting Montana's environment is ingrained in every aspect of our mining process.

Step 1: Rotary drills bore 48 foot holes, 9-7/8 inches in diameter, into the granite host rock.

Step 2: Drill cuttings are assayed to verify composition.

Step 3: Drill holes are loaded with explosives to blast and fracture the rock.

Step 4: Electric shovels load ore into haul trucks.

Step 5: Ore is hauled to the crusher in 240 ton capacity trucks. Waste goes to a designated waste rock repository.

Step 6: The primary crusher reduces large chunks of raw ore to dimensions under six inches. The secondary crushers then reduce the size of the rock further to three-quarters of an inch.

Step 7: The crushed ore is then routed through rod mills and ball mills where it is pulverized to a fine powder. Water is added to the process which makes the pulverized rock slurry.

Step 8: The slurry is then pumped into the flotation cells in the concentrator where lime and other chemicals are added to liberate the metal sulfides. Molybdenum and copper is extracted, separated and dried for shipping.

Step 9: High-grade molybdenum concentrate is bagged and transported to roasting facilities in the US. Copper concentrate is loaded into 100 ton rail cars and shipped to smelters in North America and overseas.

Step 10: Water used in the process is recycled back into the mill circuit and disturbed land undergoes reclamation and revegetation.
---
Uses of Molybdenum and Copper
Infrastructure
Due to their super-strength, molybdenum steels are used in the construction of large structures like skycrapers and bridges.
National Security
The strength of molybdenum alloy metals are ideal for producing armor plating for the nation's armored vehicles, missiles and aircraft parts.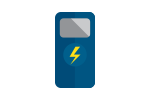 Technology
Molybdenum act as the basis of ultra-thin, energy efficient televisions, chemical sensors, portable smart computers, and hybrid cars.
Coins
Copper is used in the making of coins for a number of countries as a result of their workability and resistance to impact and wear.
Medical Technology
Imaging tools, X-rays, CT Scans and MRIs are some of the medical technologies that utilize copper.
Energy
With its resistance to corrosion and stress, molybdenum alloys are used in wind turbines and can be found in solar panels.